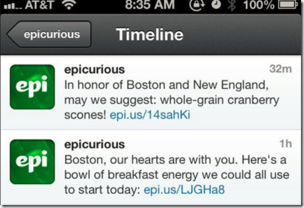 Avoid promoting your business during tragedy.

It is a given that we all have to maintain our social media in order to stay relevant as a business, regardless of size.
What is often unclear, however, is how to respond in times of tragedy. Should we address the issue and risk offending or alienating a part of our user base? The answer to this is both yes and no. As with all elements of business, aggressive action is always the most effective, as long as it is executed with class and empathy.
Here are some key components to remember:


1) NO BRANDING!
If you create a custom graphic for your online profile(s), users know where you stand and who you are. Do not turn a supportive message into a shameless plug. Even if the graphic goes viral, your focus is to show support. Anything beyond that will be transparent and tacky.

2) Look At The Trending Hashtags
Ex) #floodvictims, #supportourtroops, etc. The purpose here is to show support either through general awareness or to lead users back to a portion of your site that contributes to the cause, such as a fund or supporting link. Be respectful of victims and only communicate in ways that help the greater good.

3) Respect Privacy
If the tragedy is an extremely touchy subject, or seems controversial with little clarity on which stance is morally correct, save your image by making a single post. This post will be a single announcement that the company plans to respect a person/group's right to privacy, and that is it. You may even choose not to mention the party by name by being as broad as possible. Go on with your day and know that you made the right decision by choosing to keep your opinions to yourself.
The ultimate goal is to relay the message that your company has integrity
and does not act as a vehicle for personal opinions. When help is needed,
you take action to do your part even if it seems to put a burden on your
day to day marketing goals. In the long term, you will see that having your
brand regarded in a positive light will benefit your identity more than short-
sighted objectives and meeting sales quotas.